Last Updated on 1 August 2021
What is the Energy Reference Price?
---
Comparing energy prices can be confusing. When you consider all of the discounts, incentives, and base rates, it can be difficult to tell whether one retailer or plan is more cost-effective than another.
However, failing to compare rates and settling for the standing offer can end up costing you hundreds of dollars per year, meaning there isn't much choice but to engage in the market.
Thankfully, the new energy reference price, also known as the default market offer, can solve a lot of these problems.
In this guide, we'll cover what the energy reference price is and how it can help you find the most suitable energy plan for your needs.
The Energy Reference Price at a Glance
The energy reference price is, in essence, the most a retailer can charge you through their standing offers. It works like a government-mandated price cap and allows you to compare energy prices without the confusion that once surrounded these plans.
Energy retailers will now place their offer next to the energy reference price so you can tell whether or not you're getting a good deal.
The energy reference price is also designed to help customers who don't regularly compare energy rates. It only applies to standing offers, so there is a chance a retailer will charge more on their market offers.
A market offer is set by the energy retailer and free from government intervention. Retailers can offer attractive discounts and incentives to entice customers, which makes comparing plans more complicated. Let us do the heavy lifting for you—our free comparison tool compares energy plans based on your needs and budget to find you the best deal.
The energy reference price adds further clarity to the process. If a retailer decides to charge more than the reference price, you'll be able to see this when viewing the plan. The reference number will be right there, so you'll always have a benchmark, making comparison easier.
How Does it Work?
The Australian Energy Regulator (AER) is in charge of setting the energy reference price each year. They assess the usage and supply charges across different areas, meaning the reference price will vary depending on which state you're in. In fact, you may end up seeing two reference prices for a given state. This is because there are multiple energy distributors feeding the electricity or gas to the retailer.
The reference prices are set for each distributor, so you need to make sure you know which distributor you're with before checking the reference price that applies to you.
How Does the Energy Reference Price Help?
The energy reference price acts as a benchmark figure, making it easier for Aussie consumers to compare electricity and gas plans across different suppliers.
The energy reference price only applies to energy markets which have become deregulated, meaning energy retailers are able to set their own prices without regulation from the state.
Deregulated energy markets allow energy retailers to set their own prices and compete with one another, offering discounts and incentives that allow consumers to compare rates and save.
Many Australians in states like New South Wales and South Australia did save when the energy markets became deregulated, but others ended up paying more.
Those who didn't compare energy rates and stuck with the same supplier were often put onto standing offers, which were more expensive than market offers and ended up costing the consumer more money.
Since this price hike mostly applied to people who did not compare energy prices, people started referring to it as the "lazy tax." In these cases, doing nothing would end up costing you.
More Confusion
During the switch to deregulation, comparing energy prices became increasingly difficult for consumers.
For example, you might have seen a heavily discounted plan that looked good on paper, when in reality it was applied to a high base rate, meaning you wouldn't be saving much—if anything—by going ahead with it.
Comparing energy plans on your own meant calculating the true price of your plan, by adding your own base rate plus the discount, and comparing it to plans from other providers.
Not all consumers were aware of the tools available to them, such as our free electricity and gas comparison service, that took the confusion and heavy lifting out of getting a fair deal on energy.
A Shift Back to Regulation
Eventually, the government was forced to react and make it easier on the customer who is trying to find the best deal.
Instead of completely regulating these energy markets, the government settled on the energy reference price to make comparing energy prices a whole lot easier than it once was.
Customers who were stuck with an expensive standing offer would be switched to the new reference price—with the exception of rare cases where the standing offer was cheaper than the reference price.
Now, when comparing energy prices, you'll clearly see the annual cost of each plan with the reference price right next to it. You'll also find a percentage next to that, which shows how much you'll save when comparing it to the reference price.
As an example, a discounted plan will be displayed as "15% cheaper than the reference price" rather than "30-50% off".
Where Does This Apply?
As we've stated, the energy reference price only applies in select deregulated markets. You will find a reference price in New South Wales, South-East Queensland, and South Australia.
There is a form of the energy reference price in Victoria, but it's not exactly a cap in the same way that the reference price is.
In Victoria, customers will see a "Victoria Default Offer." Those who were previously on an expensive standing offer were switched to the default market offer.
How Much is the Energy Reference Price?
The energy reference price is not going to be the lowest available price. In some cases, it will be the highest price on the market.
Still, customers who were previously on an expensive standing offer may receive significant savings. As we've mentioned, the reference price also makes comparing plans a whole lot easier. The table below displays the energy reference prices for each area, broken down by residential, flat rates and small business rates..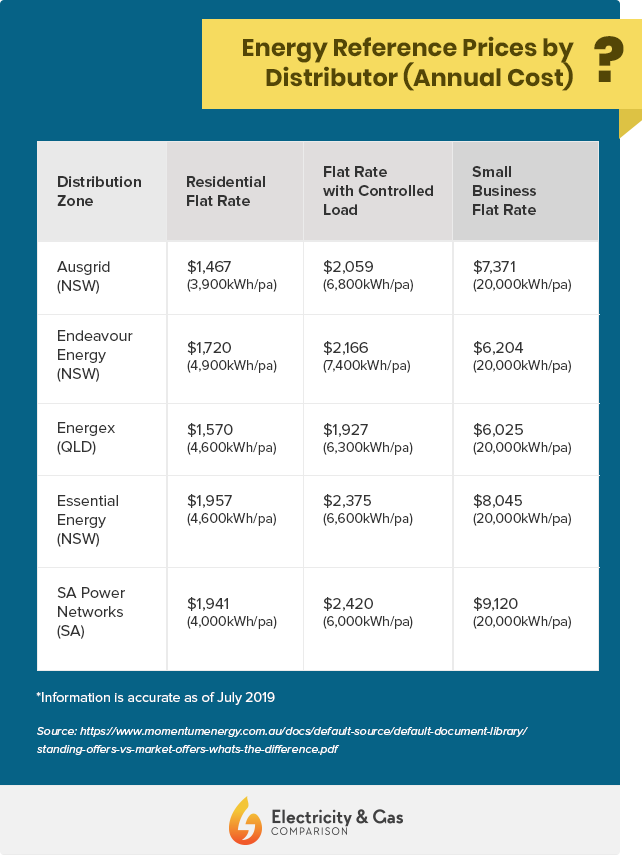 Compare and Save
The reference price will save some households hundreds of dollars per year, but that doesn't mean you can't save more!
Comparing energy prices is the best way to ensure you're on the best value plan for your needs, and in just a few minutes you get quotes and see what savings you're eligible for.