Last Updated on 1 August 2021
Guide to Getting the Best Deal on Gas in SA
---
As the options for natural gas suppliers in South Australia grows, the competition is heating up. The downside of this is that it's hard to tell whether or not you're getting the best deal.
For your convenience, we've compiled an overview of the offers from the three biggest natural gas retailers in the state. These suppliers offer features to meet the needs of most SA residents and are a fantastic place to start.
You might also want to consider choosing a smaller retailer if you don't mind bundling your electricity with your natural gas. These bundling options can often provide the greatest value to customers.
Key Points
There is a lot of competition between energy providers in SA, which makes finding and deciding on the best deal difficult.
The three biggest natural gas retailers in the state are Origin, AGL and Energy Australia.
You can bundle your electricity and gas together through some of the smaller companies, which can sometimes lead to bigger savings.
The Big Three Providers
Quite a few different providers are currently operating in South Australia (eighteen to be exact), but most SA residents purchase their gas from the three biggest companies in the state – Origin, Energy Australia and AGL.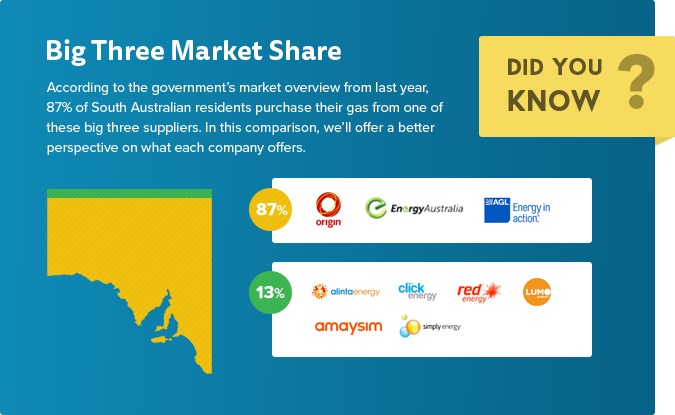 Origin
There are three gas-only plans through Origin, with the additional option to combine these plans with an electricity product if you want to make the switch.
None of these are lock-in contracts, and they don't involve a lock-in fee. The benefit periods extend to either 12 or 24 months, depending on the plan you select.
Origin Maximiser
The Origin maximiser is one of the most popular Origin plans, offering customers some of the biggest savings available. To receive the 13% discount off usage charges, you must link a direct debit account and accept all of your bills electronically.None of these are lock-in contracts, and they don't involve a lock-in fee. The benefit periods extend to either 12 or 24 months, depending on the plan you select.
Origin Saver
If you don't like paying through direct debit but are sure you'll settle your bills on time, then the Origin saver plan might be a better deal for you. This plan gives you 11% off of usage charges for on-time payments.
Bill Saver
The bill saver offers customers a guaranteed 8% off their supply and usage charges – no strings attached. You don't have to pay your bill on time or set up direct debit payments to receive this 8% discount
AGL
AGL offers their SA customers three different gas plans with accompanying discounts. All three of these plans are 12-month contracts with no exit fees.
The three gas plans available in South Australia are:
AGL Set and Forget
The set and forget plan is the primary gas product AGL offers to South Australian customers. This is a variable-rate plan with a built-in 11% discount off usage charges for customers choosing to pay via direct debit.
This discount includes the 9% direct debit discount as well as the 2% "double up discount" you will receive upon purchasing both gas and electricity from AGL.
AGL Savers
The AGL savers plan offers a slightly smaller discount of 9% off usage charges, but allows customers to pay through multiple portals as opposed to the set and forget debit-only discount. This is the AGL product for customers preferring not to link a direct debit account to their energy provider.
The savers program pairs a 7% pay-on-time discount with another 2% double-up discount. Like the set and forget discount, the extra 2% only applies if you choose to purchase both electricity and gas from AGL.
AGL Everyday
AGL everyday is the third and final plan offered by AGL for SA residents. This plan offers a smaller yet secured discount of 5%. This discount is a guaranteed 3% off your bill, with an additional 2% if you choose to bundle your gas with electricity.
Unlike the previous plans, though, this discount comes off both your usage charges and your supply charges. The benefit period has a duration of one year.
Although the discount is smaller than the other AGL plans, the everyday plan will still be a good option for customers worried about paying their bill on time and losing their discount. You also won't have to worry about setting up a direct debit payment account, since there are flexible payment options with this gas product.
Energy Australia
Energy Australia, though a slightly smaller supplier than AGL and Origin, is still big enough to be considered one of the largest energy companies in South Australia. Energy Australia offers customers two different energy plans: the flexi saver and the anytime saver.
Currently, the most significant savings can be accessed through the anytime saver plan. This plan offers a guaranteed discount of 20% off usage charges. The flexi saver in comparison offers an 11% discount when you pay on time.
Both of these options are variable-rate and have a benefit period of one year, with no exit fees.
Other Options
The big three suppliers aren't your only options for gas in South Australia. There are a few smaller gas companies as well, which promote healthy competition that benefits customers in lowering gas prices and fees on the whole.
The other gas providers in SA include:
Alinta Energy
Lumo Energy
Click Energy
Red Energy
Amaysim Energy
Simply Energy
As these retailers are small in comparison to the big three, most of them can't offer natural gas plans alone. You will have to bundle electricity and gas together with these retailers.
If you're looking to change your electricity provider in SA, one of these smaller retailers might be a good fit for you. Simply energy, for example, has received high ratings from customers for their value and customer service qualities.
Simply Energy
Simply Energy is one of the standout performers when it comes to smaller energy retailers in South Australia.
Simply energy strives to provide value, clarity to cost and other customer-friendly features. Simply Energy's more compact size allows them to put customers first.
The biggest drawback of Simply Energy is their lack of gas-only plans. They provide multiple bundles for selection, but you will have to switch your electricity provider if you want to purchase gas from Simply Energy.
Simply Energy's discounts and plans are similar to those reviewed above – they offer 12 and 24 month contracts with discounts for direct debit and on-time payments. They also provide guaranteed discounts with products if you prefer this model over their pay-on-time and direct debit discounts.
Getting the Best Deal
Discounts aren't everything when you're comparing energy retailers in South Australia. Sometimes, the retailer with the lower discount can wind up charging you more for natural gas.
To get the deal that suits your needs best, you'll need to consider a host of factors when determining the best gas provider for your home or business. Thankfully, there are a wide range of options available for SA residents. Make sure to compare your plans before committing, though, so you get the best deal you can.