Last Updated on 1 August 2021
Business Energy Plans
---
Business customers use energy differently to residential customers. To start with, they often use power during the day, and they're using a lot more of it. Because of this, many energy retailers offer tailored plans for small, medium, and large business customers. Here's more about how that works.
Key Points
Small to medium businesses can usually access a range of standard energy plans, while large businesses typically negotiate plans directly with energy retailers.
Business energy customers may use a combination of electricity and gas, with the possible addition of solar power.
Discounts, rebates, and grants may be available to eligible business customers to help reduce energy costs.
Defining Business Energy Customers
The size of your business plays a key role in determining how you get your businesses energy, and how much you pay for it. Large businesses generally have to negotiate a plan directly with an energy retailer, while small to medium businesses are often able to shop around for a plan.
Electricity is typically charged in cents per kilowatt hour (kWh) used
Gas is typically charged in cents per megajoule (MJ) used
National energy laws are in place to give small businesses similar protections as those given to residential customers. These laws are in place in the following states and territories:

Customers that use under 1 Terajoule (TJ) of gas each year are considered small businesses.
For electricity usage, the definition of a small business varies by location:

Queensland, NSW, and the ACT: up to 100 MWh per year
Tasmania: up to 150 MWh per year
SA: up to 160 MWh per year
However, keep in mind that these thresholds only define a small business for national energy laws. Individual retailers may define small, medium, and large businesses differently.
Energy for New vs. Existing Businesses
If you are establishing a new business, it may be difficult to budget for your annual energy usage from the beginning. If your location was used in a similar way before (i.e. you are opening a retail shop in what was formerly used as retail space), then your energy supplier may consider the previous energy use on the premises to estimate your usage.
If you are an existing business shopping around for a better deal, have a look through your recent energy bills to get an idea of how much energy you're using and what you pay. For gas, pay attention to the charge per megajoule (MJ). For electricity, it's the charge per kilowatt hour (kWh).
Types of Business Energy
Depending on your business premises and needs, there are three main types of energy you may use.

Natural Gas
Gas is a non-renewable type of energy typically used for heating, cooling, and cooking. It may also be used for some appliances, such as a water heater or clothes dryer. This type of gas comes from a gas main, which not all businesses are able to access.

Electricity
Electricity is generated from a number of sources, including coal and renewable energy. Your business should be connected to the electricity grid, which can then provide power to the premises.

Solar
Businesses with solar systems installed can take advantage of feed-in tariffs, which could shave some money off your power bill. Solar panels convert solar energy from the sun into power, which is then either used by the business, fed back into the grid, or stored in a battery. If you are on an energy plan with a feed-in tariff, you are paid a set rate for every kWh you feed back into the grid.
More importantly, if your business operates during the day it can use the solar power it generates instead of drawing electricity from the grid, which in turn means a lower power bill.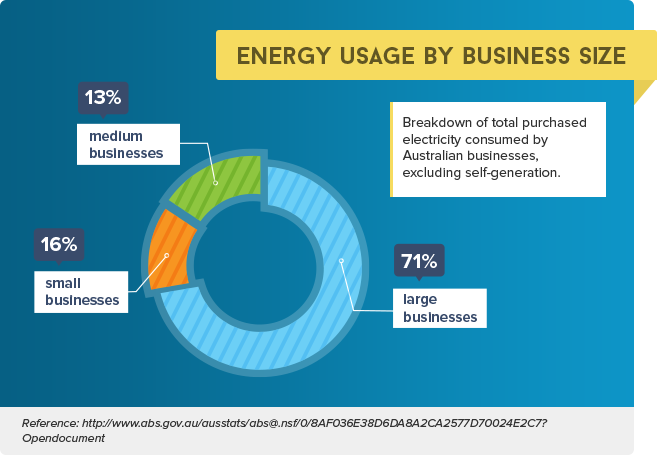 Discounts, Rebates, and Grants for Business Energy
Businesses may be able to access special offers to help reduce the cost of energy. Most states and territories in Australia offer schemes or incentives to encourage businesses to adopt energy-efficient products and appliances. Terms and conditions apply.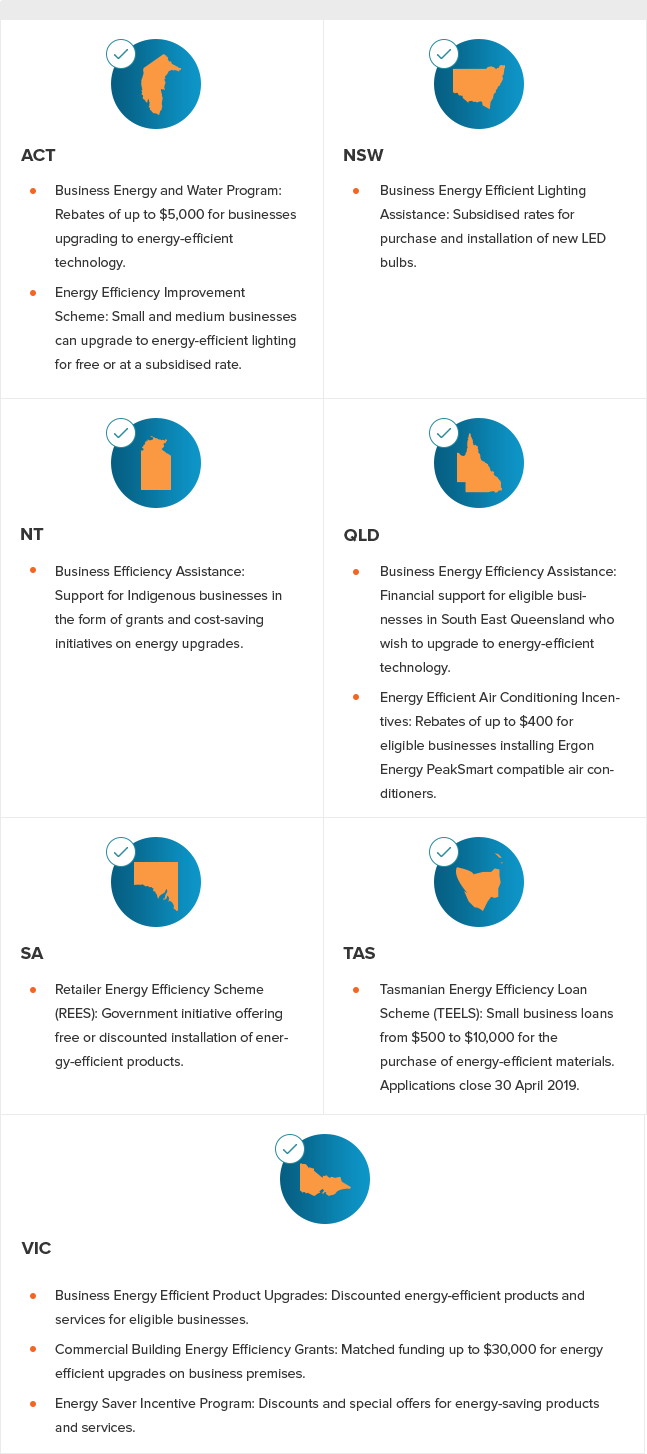 Save on Your Business Energy
Want to save money on your business energy bill? Of course you do! It's not always practical to apply the energy-saving tips you use at home to a business, because the energy needs are so different. However, similar principles do apply. Here are a few things you can do to cut down your energy costs.

Upgrade to energy-efficient appliances like LED lights, printers, refrigerators, and dishwashers.
Consider installing solar panels, especially if you use energy during the day.
Encourage employees to turn off their computers when they leave for the day.
Set timers on the lights so they do not remain on unnecessarily.
Compare energy plans to find one that is a good fit for your business. Look for lower costs during the times you'll be using energy the most.
Take advantage of rebates and cost-saving energy initiatives available to you.