Last Updated on 1 August 2021
Compare Solar Energy Companies in VIC
---
Adding solar panels to your home is a smart way to save on electricity while reducing your carbon footprint. The cost of installing these panels can be high, so it's worth weighing up what you're likely to save over the years. Compare solar in Victoria to see what's on offer.
Solar panels are gaining popularity in Victoria. While the government doesn't offer as many incentives as they used to, they still offer a competitive minimum feed-in tariff rate for those who produce renewable energy.
Key Points
The Victorian government recently changed their minimum feed-in tariff rate from 11.3 c/kWh to 9.9 c/kWh.
With the change, the government also gave retailers the opportunity to offer a time-varying feed-in tariff option to customers.
Retailers are able to charge more than the minimum flat rate of 9.9 c/kWh, allowing for more competition.
What is a Feed-In Tariff in Victoria?
Feed-in tariff rates are one of the primary incentives for installing solar panels on your home. Of course, solar panels also reduce your carbon footprint, but the amount you save on your power bill may outweigh the cost of installation in the long run.
Feed-in tariffs are part of that savings and reward you for producing excess electricity and feeding it back to the grid. Below are the government-mandated rates as well as what some of the major retailers in the state offer.
What is the Minimum Single-Rate Feed-In Tariff in Victoria?
The government has set a minimum feed-in tariff rate that retailers must offer their customers. As of 1 July 2018, the minimum single-rate feed-in tariff rate reduced to 9.9 cents per kilowatt hour for all excess electricity residents sell back to the grid.
The rate is down from last year, where the government minimum feed-in tariff was 11.3 cents per kilowatt hour. Still, the price is almost double what it was two years ago,when it was only at five cents per kilowatt hour.
Rates have reduced due to fluctuations in the forecast wholesale price of electricity.
Anyone who was on a single-rate feed-in tariff should have been transferred to the new feed-in tariff rate when the statewide change went into effect.
The newest change in policy applies to retailers with more than 5,000 customers. Retailers are required to offer at least the minimum tariff.
What is the Time-Varying Tariff in Victoria?
The Victorian government also introduced time-varying feed-in tariffs during their 1 July switch. This change allows retailers to decide whether they want to offer the flat rate discussed above, the time-varying rate, or both to their customers.
A time-varying rate works similarly to the way peak usage charges work on your electricity plan. Retailers offer a higher feed-in tariff rate during peak hours, and a lower rate during controlled load and shoulder hours.
Here is a breakdown of how the time-varying tariff works: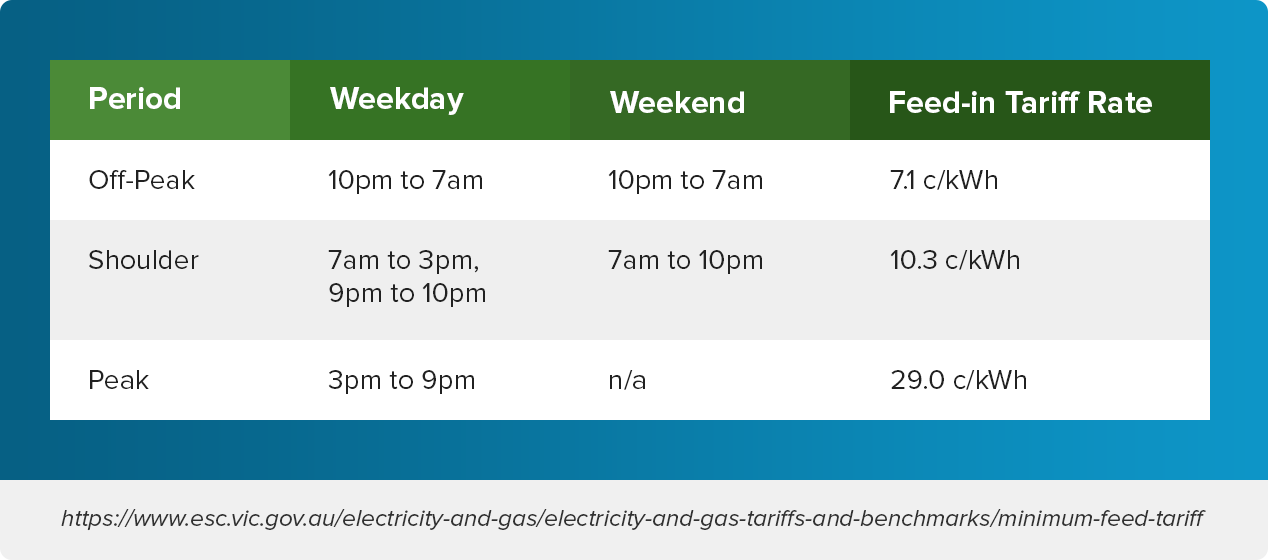 What are Retailer Feed-in Tariff Rates in Victoria?
There are more than 20 electricity providers in Victoria, so there's plenty of competition when it comes to where you get your electricity and solar packages.
Not all suppliers provide solar-specific packages, however, and only provide the government's minimum feed-in tariff rate. Since there are so many options, there is a good range of selection for comparing solar plans in Victoria.
We included four of the larger retailers in the state that offer specific plans for those who have installed solar panels on their home.
The recent minimum flat feed-in tariff in Victoria has affected the feed-in tariff rates for some of these suppliers, but this information is correct after the 1 July 2018 change went into effect.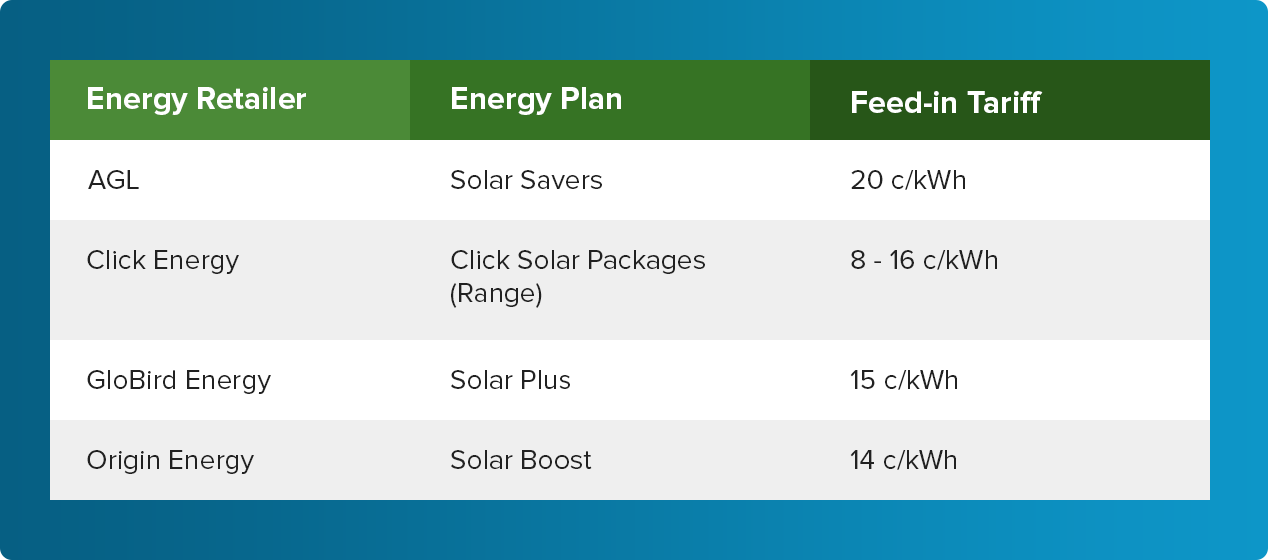 Some suppliers that don't offer specific solar plans also offer feed-in tariff rates that are above the government mandated minimum. Compare solar plans in Victoria to get an idea of whether or not you're getting a competitive rate.
Fortunately for Victorian consumers, retailers can now provide the option of a flat rate or time-varying rate. If you produce the most solar power during peak hours, a time-varying rate may be a fantastic money-saving option for you.
Of course, this added option means you may have to think a bit more carefully when selecting a solar energy plan in Victoria.
Tariffs Aren't Everything
Keep in mind that feed-in tariff rates aren't everything. Having a high feed-in tariff on your plan is great for some people, but also comes at a cost for others.
Keep an eye out for static charges like solar meter charges, which charge you on a daily basis regardless of how much energy you use.
A plan with high feed-in tariffs might also include high usage charges, which isn't ideal for those with small solar panels or storage batteries. If your solar system isn't especially large, you will still rely on the grid for most of your power. You may not see much from your feed-in tariffs and could get hit with high usage charges.
High feed-in tariffs are ideal for households with large solar systems, or those who spend the bulk of their day away from home.
It's also worth considering other features of a solar offer, such as discounts for packages bundled with electricity or gas services.
Solar feed-in tariffs may only be offered for a fixed period of time, such as 12 or 24 months. If you're deciding between two plans, see which one offers their feed-in tariff for a longer period of time.
Retailers often offer discounts for paying your bill on time, so include these additional discounts when making a decision.
Comparison is crucial when you're deciding on which solar electricity plan to purchase in Victoria. There are several options, so take the time to shop around before making a final decision.