Last Updated on 1 August 2021
Energy Prices & Rates in Tasmania
---
Electricity comparison in Tasmania is relatively limited due to the lack of competition. Still, it's important to understand the rates, tariffs, and concessions available in Tasmania to make sure you're getting the best rate for your home.
Key Points
Tasmania is technically a deregulated market, but their price regulation stifles true competition.
Aurora Energy is the only residential electricity option for Tasmanian residents.
Take advantage of the tariff schemes and possible concessions to get the most value out of your dollar as a Tasmanian electricity consumer.
Electricity Competition in Tasmania
A regulated electricity market means there's no room for competition, and this was the case in Tasmania until 2014. Competition regulation isn't the only type of regulation, however, and price regulation still exists in the state.
A regulated electricity market means there's no room for competition, and this was the case in Tasmania until 2014. Competition regulation isn't the only type of regulation, however, and price regulation still exists in the state.
Aurora Energy has been the only option for Tasmanian residents for a while, and it doesn't look like that's about to change anytime soon. Aurora is the only retailer in the state that offers retail contracts, though businesses have a bit more choice when it comes to their energy retailer.
Businesses in Tasmania can choose between Aurora, Flow Business, AGL, and ERM Business Energy. Although these retailers provide slightly different benefits in their contracts, electricity retailers in Tasmania are hamstrung due to the price regulation in the state.
Price Regulation
Price regulation could be the reason competition in the residential market hasn't picked up. The government caps the price that retailers are allowed to charge, which means there's very little
The government's price regulation means a lack of competition for retail customers, but it also provides a bit of protection against the country-wide electricity price hike.
Most Australians – regardless of where they live – have seen a price increase for sources of energy. Petrol, electricity, and natural gas prices have risen substantially in recent months, but the price cap in Tasmania has protected customers to a degree.
Aurora Electricity Prices
The Aurora electricity prices break down into five different tariff sections. Your tariff determines the electricity payment structure of your plan.
Since Tasmanian residents don't currently have a choice in their electricity retailer, it's important to know which tariff you are on to understand better how much you'll pay on your electricity bill.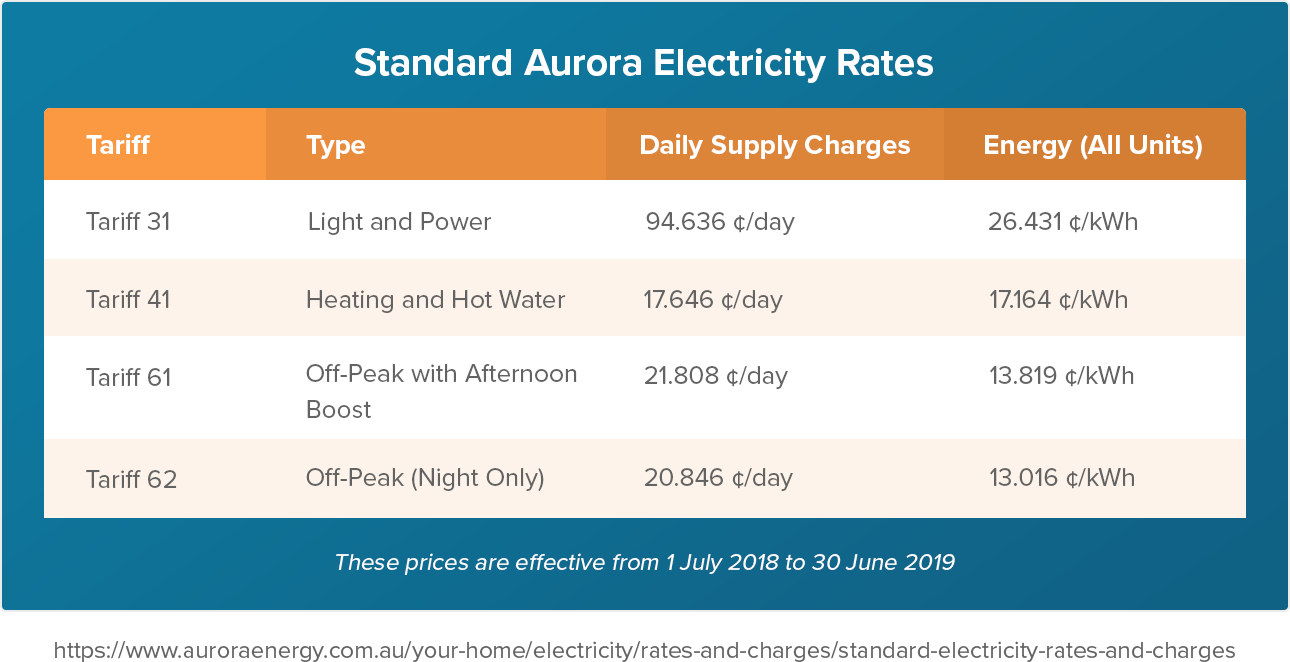 Residential customers are on tariff 31, which is the light and power tariff. Residents who use electricity for their heating may also be on the heating and hot water tariff: tariff 41.
Tariff 61 and 62, which are controlled load heating tariffs, are less common for residential customers, bust still may apply to you. If you aren't sure which tariffs apply to you, check your most recent bill or contact Aurora.
What is the Time of Use Tariff?
The time of use tariff, Tariff 93, is an opt-in only tariff for Tasmanian households. Customers on this tariff have elected to do so. The chart below shows the pricing breakdown of Aurora's Time of Use tariff.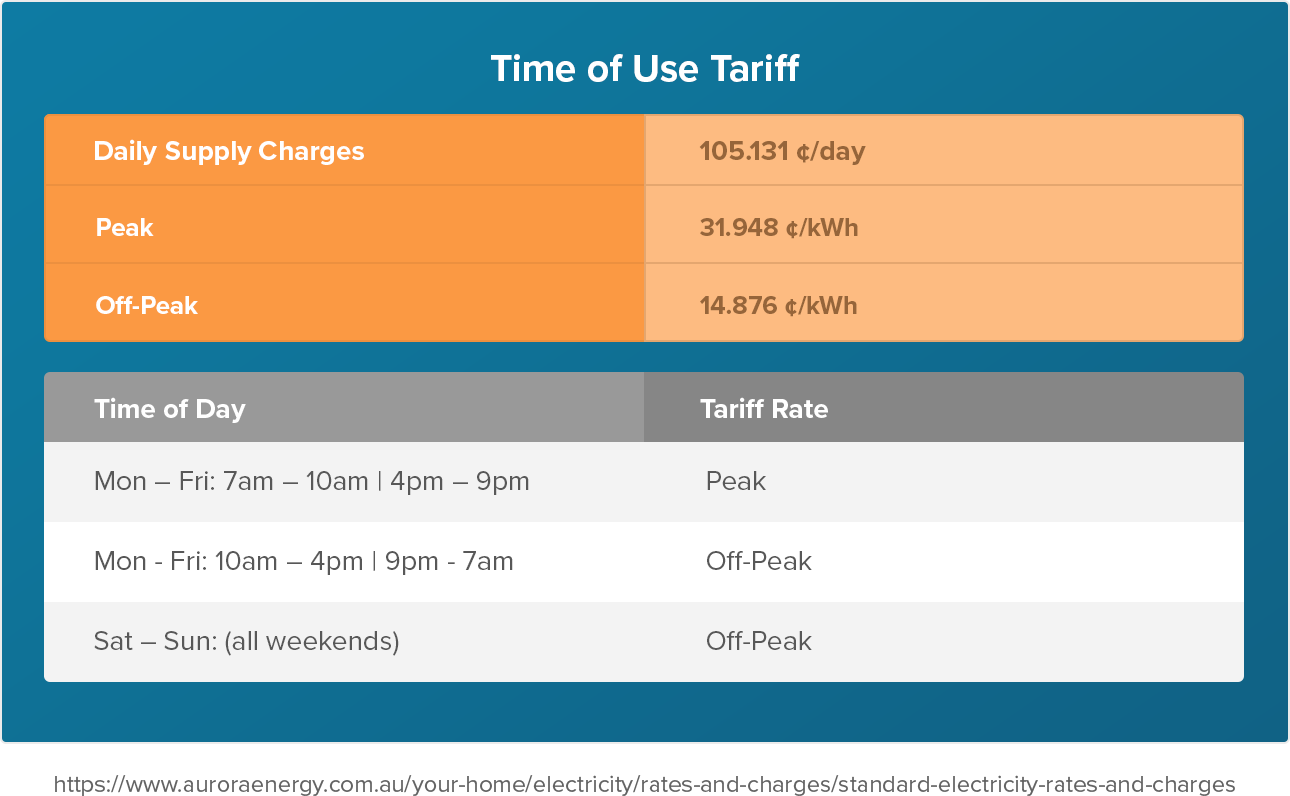 Choosing the Tariff 93 pricing scheme can save you money, depending on when you use the bulk of your electricity. Using electricity during peak hours costs more money than a standard tariff, but it may suit customers who use the most electricity during controlled load hours.
What are the features of Aurora Energy?
Aurora Energy provides some basic features for their customers, including an online account management portal, green energy incentives, and a Pay as You Go policy that allows you to prepay for your electricity use.
Electricity Concessions
Some low-income households may be eligible to receive electricity pricing concessions from the Tasmanian government. The following is a list of concessions available to some residents of Tasmania:
Annual Electricity Concession
Heating Allowance
Life Support Concession
Medical Cooling or Heating Concession
Annual Electricity Concession
The Annual Electricity Concession currently allows customers to save 137.980 cents per day on their electricity bill. Those who have the following cards will be eligible for this concession:
DHS or DVA Pensioner Concession Card
DHS Health Care Card
ImmiCard (Bridging Visa E)
Tasmanian Concession Card (issued by the Department of Communities Tasmania)
Heating Allowance
The heating allowance provides government assistance of $56 a year to DHS or DVA Pensioner Concession Card holders. This payment comes in $28 instalments each May and September.
Life Support Concession
Tasmanian residents who use an approved life support system may also be eligible to receive a concession. These customers will receive a discount depending on which life support system they need in their principal place of residence.
Oxygen concentrator, 102.268 cents per day
Peritoneal dialysis machine, 75.877 cents per day
Haemo-dialysis machine, 75.877 cents per day
Chronic positive pressure and airways regulator, 36.289 cents per day
Respirator (iron lung), 135.289 cents per day
Combination oxygen concentrator and chronic positive pressure and airways regulator, 138.558 cents per day
Phototherapy machine, 192.722 cents per day
Left ventricular assist device, 36.289 cents per day
Medical Cooling or Heating Concession
Those who have – or live with someone who has – a medical condition that requires additional cooling or heating in their home may be able to receive a concession of 41.328 cents per day.
How to Find the Best Deal?
Since competition has yet to pick up in Tasmania, there isn't much you can do in the way of comparison. Even if other retailers enter the market in the near future, their plans are unlikely to differ very much from the existing offers from Aurora.
What you can do, however, is make sure you're on the best tariff scheme for your electricity usage. For instance, you should explore the time of use tariffs if you usually use energy during controlled load hours.
Take a look at any concessions you might be eligible for as well. These concessions can save you money on your daily charges, which adds up over the long run.