Last Updated on 1 August 2021
Compare Electricity Prices & Rates in South Australia
---
South Australia has some of the highest energy prices in the world. It's important for customers in SA to compare energy plans, because it can help reduce your bill.
However, there is strong competition in South Australia, which means there is a considerable amount of choice that goes into picking your plan.
In this guide, we'll take a look at the basic overview of electricity, gas, and solar products available in South Australia.
Key Points
Despite the amount of competition, energy prices in South Australia remain high.
Although there are options for electricity and gas suppliers, the "big three" dominate most of the market: AGL, Origin, and Energy Australia.
South Australia uses block pricing for both electricity and gas plans.
Electricity in South Australia
Electricity prices in South Australia are the highest in the nation. In fact, residents of this state pay some of the highest prices for energy in the world.
There are a host of factors that contribute to these high prices, including grid reliability, weather conditions, renewable energy commitment, and the high transmission and distribution cost that energy distributors pay.
Electricity Suppliers
Despite these high prices, the electricity market in South Australia is competitive. The market is deregulated, and there are nearly 20 retailers customers can choose from.
These companies include:
AGL
Alinta Energy
Amaysim Energy
BlueNRG
Click Energy
Commander Power & Gas
Diamond Energy
Dodo Power & Gas
EnergyAustralia
Lumo Energy
Momentum Energy
Origin Energy
People Energy
Powerdirect
QEnergy
Red Energy
Sanctuary Energy
Simply Energy
Tango Energy
Electricity comparison in South Australia is particularly important because of the number of options you have. Despite these options, most households stick with the "big three" retailers that operate in the state.
These big three are AGL, Origin Energy, and Energy Australia, and they make up roughly 75% of the residential market share. Although these three companies dominate the electricity market, it doesn't necessarily translate to the best deal for the customer.
South Australia deregulated their energy market and opened the door to competition in 2012.
Many customers haven't considered switching plans since then, which might be why Origin, AGL, and Energy Australia still hold the market share.
Block Pricing
Tariff 110 introduced block pricing to many South Australian residents. Understanding how block (also known as tiered) pricing works is essential to finding the deal that works best for you.
With block pricing, your electricity consumption is separated into different tiers. Each 'block' of usage is charged at a different rate. Some start low and go up, while in others, the first block is the most expensive.
Most major retailers tier your electricity usage into two or three different blocks, but some include more tiers. Below is a simple example of how block pricing works with Energy Australia's FlexiSaver Plan.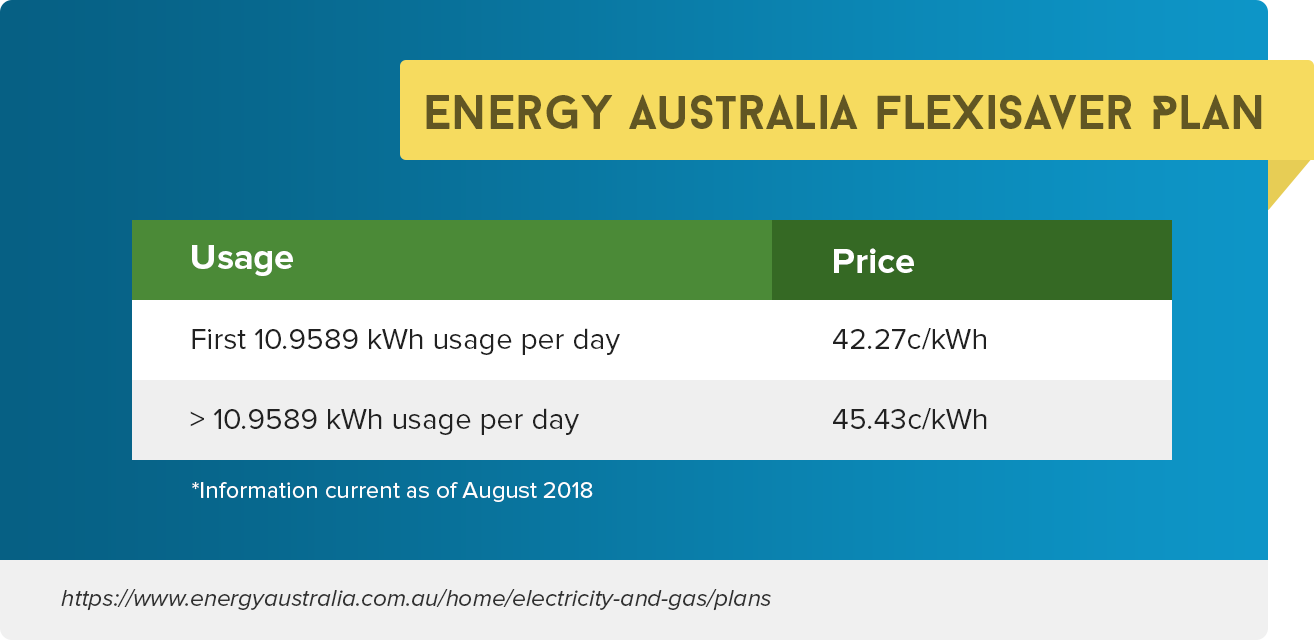 Block pricing can save you money if you compare smart, as some retailers charge high rates on their top tiers to supplement lower rates at their bottom tiers.
A plan like this one benefits people who don't use very much electricity. If you constantly exceed the first or second block, you may want to choose a plan that starts with lower prices.
Natural Gas in South Australia
Like electricity in South Australia, there are quite a few different natural gas providers in the state. Competition means these retailers are competing for your dollar, but it can make it confusing to know if you're getting a fair price.
Natural Gas Suppliers
The natural gas market in South Australia is also similar to the electricity market in that it's dominated by the big three retailers: Origin Energy, Energy Australia, and AGL.
Additional natural gas retailers include:
Alinta Energy
Lumo Energy
Red Energy
Simply Energy
While you can purchase gas-only plans from the big three, many smaller gas suppliers only offer natural gas options as bundles to go along with their electricity plan.
You only have a few options if you're happy with your electricity supplier but want to switch gas retailers. Those who want to switch both electricity and gas can compare plans to find a lower price.
The market share of natural gas providers doesn't tell the whole story regarding performance. Simply Energy, for instance, has received high remarks from customers for their gas plans.
What are Block Pricing and Supply Charges?
Block – or tiered – pricing also applies to natural gas plans in South Australia. Natural gas usage varies significantly, with some households using a lot of natural gas and others using barely any.
Those who use natural gas for water heating will almost always use more natural gas than those who don't. If you use gas for water heating and have a plan with high priced upper tiers, you may want to consider making a switch.
Supply charges are also an important natural gas pricing component to consider. You will face the same amount in supply charges regardless of how much gas you use.
Those who don't use very much natural gas may want a plan with higher usage charges and lower supply charges. If you use a lot of natural gas, you probably want the opposite plan.
Block pricing and supply charges are two important elements to consider when comparing gas plans in South Australia.
Solar Energy in South Australia
Many states offer feed-in tariffs for people who have solar panels on their home. Unfortunately, South Australia isn't one of them.
You have to go through your energy retailer to get a feed-in tariff rate, and these rates vary significantly depending on which retailer you choose.
If you have solar panels, compare solar packages along with electricity and gas plans when weighing up your options.
Comparing Energy Plans in SA
South Australia is a competitive energy market when it comes to electricity, gas, and solar offerings. Since prices are so high, it's important to compare plans and suppliers to make sure you're getting a fair price for your household.
Use the comparison tool below to help find a low rate for your household's energy. Remember to consider block pricing, solar feed-in tariffs, and supply vs. usage charges when making your decision.