Last Updated on 21 May 2022
Electricity Companies & Providers in Queensland
---
Key Points
Electricity in South East Queensland was deregulated in 2016 – as a result, prices in this area are determined by the market. Prices in regional Queensland are regulated by the Queensland Competition Authority (QCA).
In 2018 the Queensland government launched the Affordable Energy Plan, a $300 million initiative geared at making electricity more affordable. A number of rebates and concessions are available through this scheme.
Two solar feed-in tariffs are available in Queensland: the South East Queensland market feed-in tariff and the regional feed-in tariff.
Overview of Electricity in Queensland
Electricity in Queensland is generated primarily by coal-fired power stations, followed by gas and renewable energy. It is transmitted across a 13,000 kilometer network and distributed through a 200,000 kilometer network to homes and businesses. While electricity generation is created through government and privately-owned companies, network infrastructure is entirely government-owned.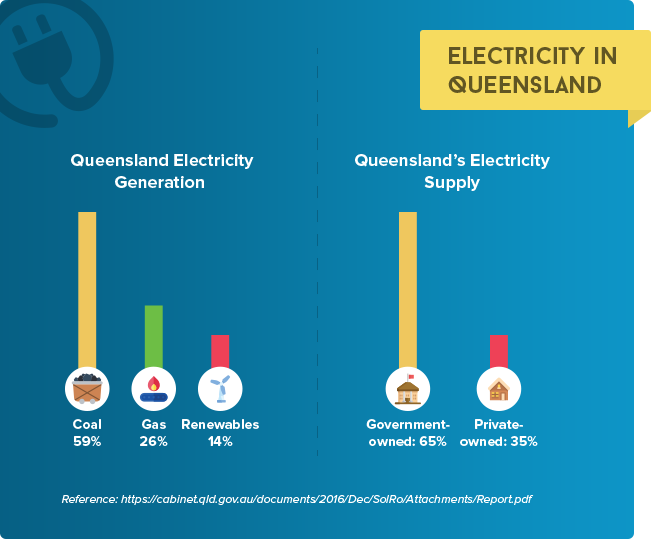 Electricity Distributors in Queensland
Distributors own and manage the infrastructure that allows for delivery of your energy, such as pipes and power lines. Two government-owned distributors provide electricity to the majority of Queenslanders.

Customers residing near the NSW border may receive their energy from Essential Energy, a NSW-owned distributor.
Electricity Retailers in Queensland
Electricity suppliers purchase electricity wholesale and sell it to customers. Prices in regional Queensland are regulated by the Queensland Competition Authority (QCA) while retailers offer market contracts in the rest of the country.
Market competition is generally positive for Queensland customers – it offers a larger selection of companies to choose from, and savings from shopping around between varying prices.

Electricity retailers in Queensland include:
1st Energy
AGL
Alinta Energy
Click Energy
Diamond Energy
Dodo Power & Gas
Energy Australia
Powershop Australia Pty Ltd
EnergyLocals
Ergon Energy
ERM Power Retail
Locality Planning
Energy
Lumo Energy
Mojo Power Pty Ltd
Qenergy
Red Energy
Momentum Energy
Next Business Energy
Origin Energy
People Energy Pty Ltd
Powerdirect
Sanctuary Energy
Simply Energy
Electricity Prices in Queensland
The energy market in South East Queensland was deregulated as of 1 July 2016. As a result, energy suppliers are now free to set their own prices.
The QCA regulates retail tariffs in regional Queensland.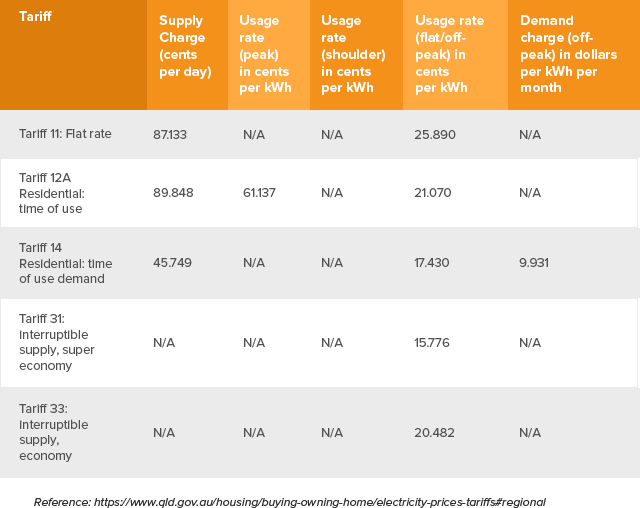 Concessions and Rebates
In 2018, the Queensland government launched its Affordable Energy Plan – a $300 million initiative to make electricity cheaper for customers. The plan was designed to keep the average electricity bill below inflation level over the next two years.
Here are some of the initiatives, rebates, and concessions available in Queensland:
Electricity Asset Ownership Dividend
The state government is distributing $200 million in dividends as a $50 per year electricity rebate to residential customers over the next two years. No application is required as the rebate is automatically applied to eligible household electricity bills. The first rebate was issued from 30 April 2018.
General Electricity Rebates and Concessions
Electricity Rebate: $340.85 (GST included) for eligible low-income earners to reduce the cost of the electricity bill.
Medical Cooling and Heating Electricity Concession Scheme: $340.85 (GST included) for customers with a qualifying medical condition who need heating or cooling.
The Home Energy Emergency Assistance Scheme: Up to $720 in a 12 month period for low-income households who are dealing with a temporary financial emergency.
Electricity Life Support: Concession for those who depend on electricity-powered life support machines.
Electricity rebate for residential home parks and multi-unit residential premises: Eligible residents may receive a daily rebate of $0.8489 (exclusive of GST) and $0.9338 (inclusive of GST).
Solar incentives
Over three years, $21 million will be reserved for interest-free loans and rebates for Queensland customers who buy rooftop solar and battery systems. An additional $4 million trial will be rolled out to encourage landlords to install solar so their tenants can benefit as well.
Regional Queensland Rebates

Customers in regional Queensland face unique challenges in accessing electricity. Three government schemes have been put in place to help these customers save on their power bill:
EasyPay Rewards: $75 rebate for regional households that register for direct debit and eBilling
Energy Savvy Families: Free digital meters for eligible low-income families
Removal of non-reversion policy: Customers who left Ergon Energy can now return to Ergon and take advantage of EasyPay Rewards.
Solar Power in Queensland
According to recent research, 24.9% of Queensland households have solar panels installed, making it second only to South Australia. Queensland's famous sunshine makes it an ideal state for solar, which in turn could reduce the power bill for those who have it.
The Queensland government-run Solar Bonus Scheme paid customers 44c for each kilowatt hour (kWh) of energy they fed back into the grid. This scheme is due to expire on 1 July 2028 and is no longer accepting new customers.
However, there are still two feed-in tariffs available to Queensland residents (eligibility dependant on area of residence):
South East Queensland (SEQ) market feed-in tariff
Electricity retailers in South East Queensland offer voluntary feed-in tariffs to solar customers. Different retailers can offer different rates, so shop around, but remember that feed-in tariffs should be considered alongside the cost per kWh.
Regional feed-in tariff
Residents of regional Queensland may be able to take advantage of flat rate or time-varying feed-in tariffs. Those who feed the most power back to the grid during peak times may benefit from the time-varying tariff, while others may benefit more from a flat rate.
Flat rate: the default rate set by the Queensland Competition Authority (QCA) and offered to Ergon Energy and Origin Energy customers. The 2017-18 flat rate feed-in tariff is 10.2 cents per kWh.
Time-varying: available to Ergon Energy customers only. Peak rate (between 3pm and 7pm) pays 13.606 cents per kWh; controlled load (all other times) pays 7.358 cents per kWh.
Tips for Comparing Electricity in Queensland
Shop around to find cheaper electricity in QLD, especially in the recently deregulated area of South East Queensland.
Ask your current supplier if they're willing to offer you a better deal; if not, switch suppliers.
Solar customers should consider their options for feed-in tariffs, but remember to weigh up the cost per kWh of electricity as well.
Take advantage of electricity rebates and concessions you may be eligible for.